History of the French Club Chair:
The first French Club Chairs appeared at the beginning of the 20th century. They were characterized by their straight lines, from the Art Deco Style opposed to the Art Nouveau Style with its clean and flexible lines.  After the Second World War, dozens of shapes appeared.
Some have stood the test of time, such as the "Moustache", with a lip like curves across the back and the "Gendarme's Hat", with an elegant arch like curve, both appeared in the 40's. My favourite one is the Round Shape, which was the most famous and had become the Club Chair's most emblematic incarnation.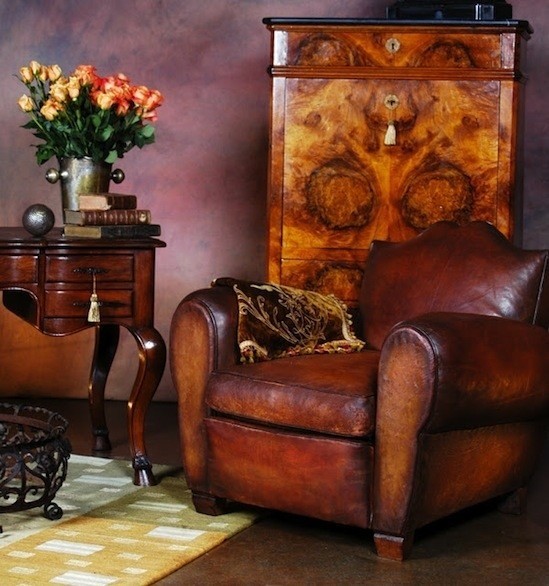 Stunning Vintage French Club Chair "Moustache"
Contrary to popular belief, this leather Club Chair is French origin.  At first, the Club Chair was called "The Comfortable Chair" to distinguish it from the "Fauteuil de style" which had straighter lines and was less enveloping. While the name "Club Chair" refers to the Gentlemen's Clubs in the 19th Century in England where gentlemen could escape from their home (and wives) and enjoy cigars, brandy, and conversation about business, politics and sports. The names of the fashionable London streets full of such Clubs are still used to name classics English Club Chairs such as St. James or Piccadilly.
Years later, The Club Sofa appeared, offering more seating space, but also an opportunity to have a comfortable bed. You can find the same shapes as the Club Chairs, like the "Moustache".
This vintage chair has become the most coveted chair in the world and had inspired many designers, from Le Corbusier, Pierre Jeanneret, Charlotte Perriand to Philippe Starck in the 80's 90's with the creation of the Bubble Club. It was made of polyethylene moulding, taking the Club Chair from the bourgeois home to the terraces and gardens. So over time, nothing changes fundamentally, everything deforms and is transformed, and the club doesn't stop instilling new ideas, by these contemporary forms since its origin. Its longevity, modernism and refinement are still very much admired today.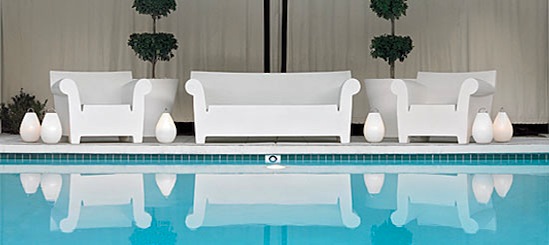 Stunning Bubble Club by Philippe Starck 
How the French Club Chair is made?
Continue reading "French Club Chair: the most timeless chair ever!" »