Have you ever dreamed of having an amazing unique vintage Chesterfield in your interior?
I have what you need!
It's not only a great vintage Chesterfield, but also a unique one with its handmade Union Jack decoration.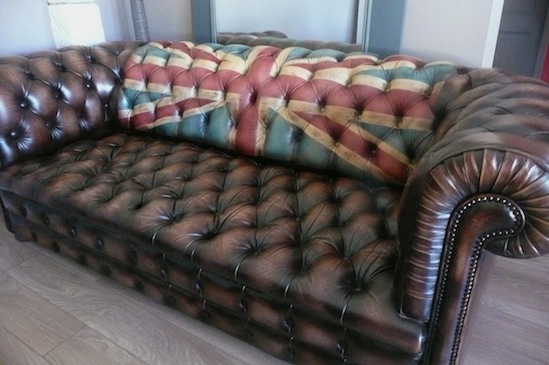 It has been fully refurbished by my favorite craftsman. The Union Jack flag has been painted by hand, and a lovely patina has been added to give it a vintage charm and more character.
It is a 3 seater leather sofa. Dimensions: 215 cm x 95 cm x 78 cm (height).
Delivery to any post code in London for £30, other location, please ask for a quote.
Have a look at those pictures and don't hesitate to tell me if you like it!
It has been sold, but if you would like one like that (even if they are all unique…) don't hesitate to contact me and visit right now La Boutique Vintage to see our stock!