Are you looking for a big old bottle to create unique vintage decoration ? "Dame Jeanne" must known as Demijohn in UK, is what you are looking for.
"Demijohn" is an old word that formerly referred to any glass vessel with a large body and small neck, enclosed in wickerwork.  In France, Demijohn is called "Dame Jeanne", literally "Lady Jane", as a popular appellation.
The story says that in 1347, the Queen Jane (la "Reine Jeanne") expulsed from her kingdom went to take refuge in the Provence county (south of France) walking through the towns of Grasse and Draguigan. Surprised by a violent thunderstorm, we indicated her for asylum, the small castle of a gentleman glass blower to the hamlet of "Saint Paul la Galline Grasse".
After a night spent, the Queen asked to be shown how were made his glassware. A little disturbed, and nervous in the presence of royalty the glassworker blew in the bit of his cane, and overdid the blowing and realized an enormous bottle, which made the admiration of all by its volume of about ten litters. He caused so much admiration that he decided to start manufacturing those big flasks and called them "Reine Jeanne" "Queen-Jane", but the Queen suggested modestly to give them the name of "Dame Jeanne" "Lady Jane" instead. To protect this big bottle, the glass blower dressed it in wicker.
The French "Dame Jeanne" has several names: you can find "Tourie" and also "Bonbonne" in France or "Carboy" in the USA.
The word Carboy is from Persian "qarabah", from Arabic qarraba, "big jug".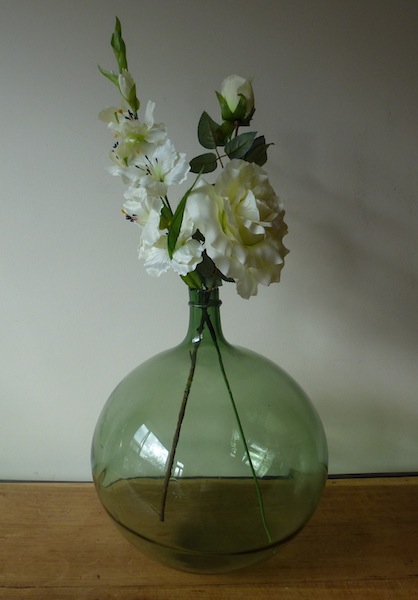 Those Demijohns come in various volumes ranging from 2 to 50 litters.  Their shape can be oval or round with a flat bottom and a small neck.
Continue reading "French Vintage Demijohn a must have for your decoration!" »