Vintage maps, used as decoration, can be very attractive in any interior. They become a focal point in any room. The oldest ones are the most interesting as the names of the countries and some borders may have changed since then! They are very rare, often unique so by the way really valuable in any collection.
Most of the time people put them in a bedroom, but you can also fit them in any living room, dining room or hallway.
Be inspired by our picks and let me know which one is your favorite?
This one is a school map about Europe from Bacon's Standard. The 2 sticks on the top and bottom make it goes straight and stay finally in good condition. The size is probably not so big but disposed on the top of a vintage suitcase it definitely gives a true vintage feeling.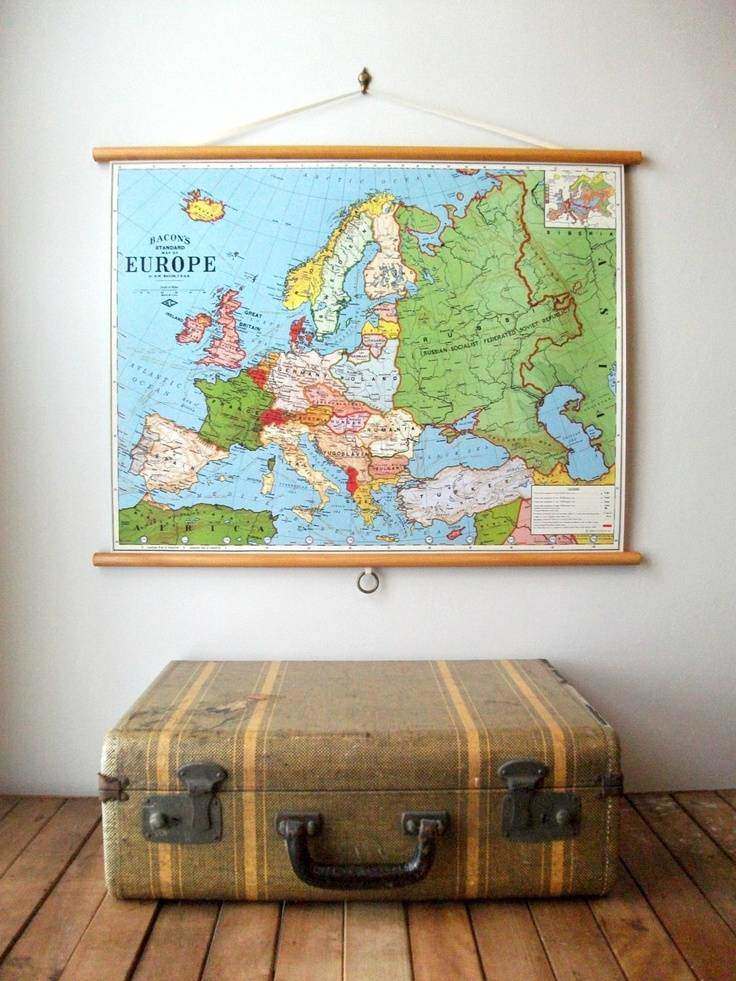 This one about The Balkans is from "Librairie Armand Colin", a French company. The wooden frame is perfect for the conservation of the map and add more character to it.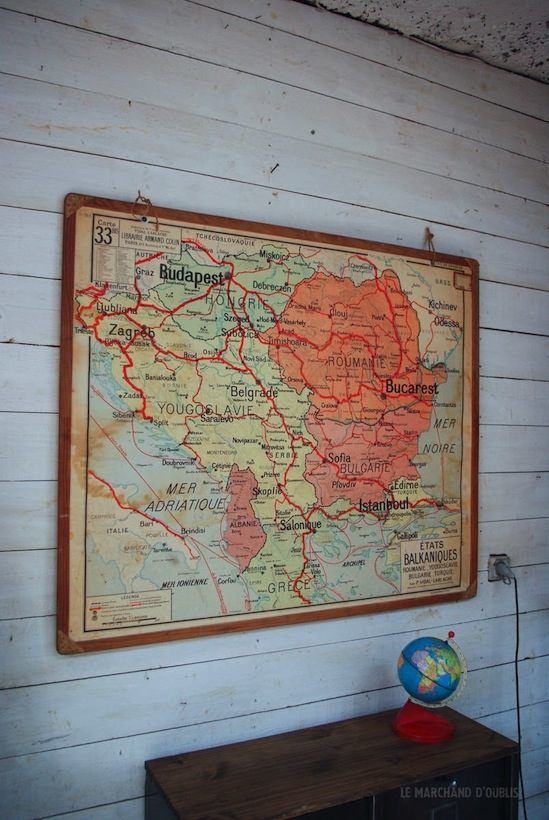 That one looks like Australia map. It really fits well between these 2 doors locker and the Industrial Drawer Cabinet.The Industrial Shelf, the vintage boxes and the pendant lights give a perfect Industrial Chic Style.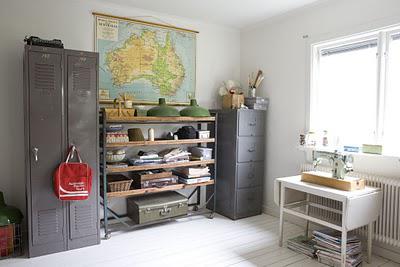 The United States of America Vintage Map is hang on the wall by those old rails our teachers were using to place them in the center of the room. Add a vintage globe for a perfect finish of your kid's bedroom decoration. Some wonderful traveling dreams to come!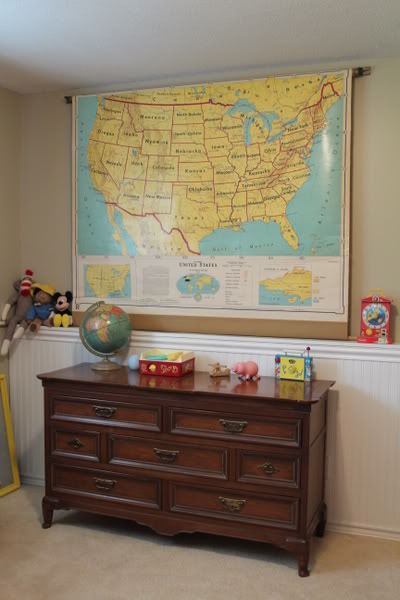 The map on the left is a very old one, probably North America, huge size and in good condition. Perfect on the top of the cupboard or on any console. The other one looks more recent and is probably Italy with Sardinia Island. It's gorgeous with a Vintage Chesterfield and some old clocks. Perfect for an office or a living room.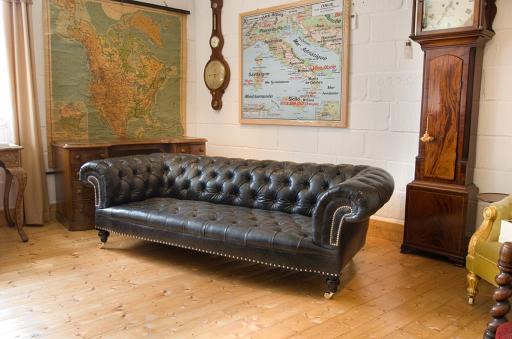 A huge and very old map of the World. Perfect to give a true vintage feeling in any room. I would put it in a hallway, what an entrance that would be! I particularly love the awesome row of Vintage cinema seats, just perfect!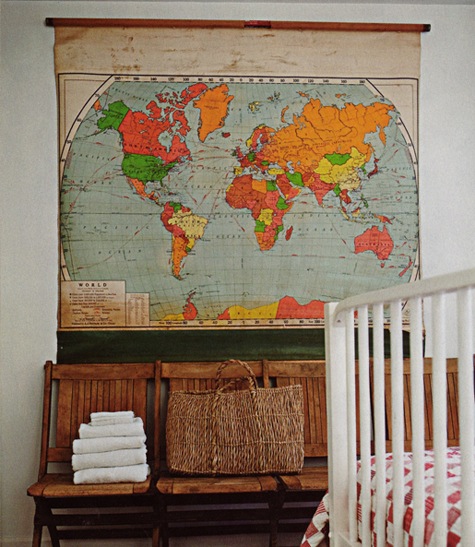 This huge planisphere fits very well on this black brick wall. It gives so much character to the room. It would fit in any office and give you some help in case your have some geographic memory problems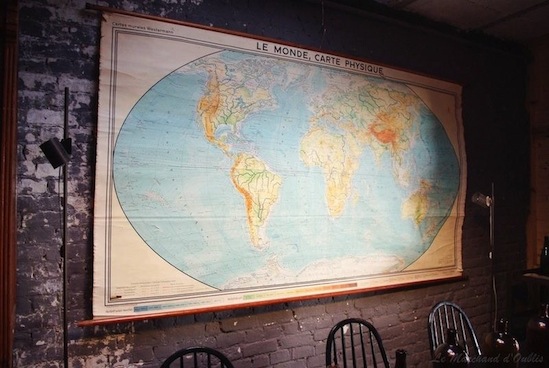 This map of Antarctica looks great in this kid's bedroom. It brings some color on the white wall. Your child might become an adventurer later, who knows?
Who wouldn't dream travel with such a huge map in front of his eyes? Lovely setting with some Industrial Chairs and desk. Perfect for a home office or for a student room.
I don't know which one I prefer, the vintage school desk with the gorgeous chairs or the Vintage school map. For sure, the green color of the map match perfectly with the white wall and the brown desk.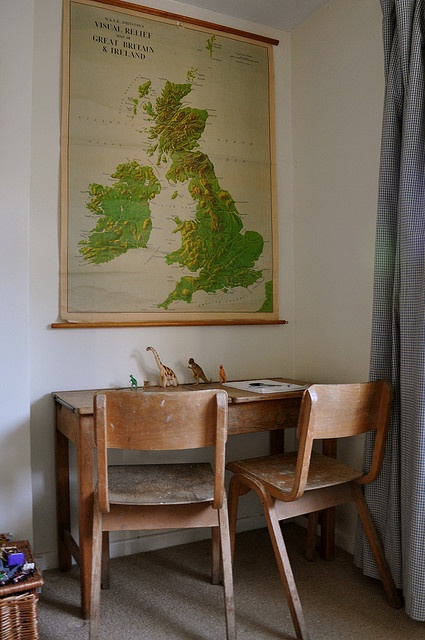 If you want to play with colors, those following two are just great! The red color is dominant on the first one so they add some red retro benches and a retro white table. Have you seen the bunny?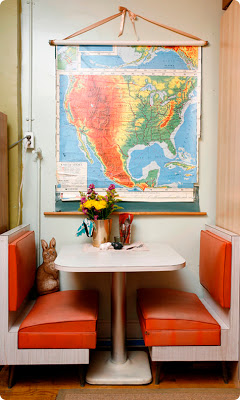 On that one, the green color is dominant so they found a vintage green trunk to match perfectly! Brilliant idea to follow if you find some maps with bright colors. You can even make them match with chairs or just accessories on your console or table. Let's give it a try? First find the map!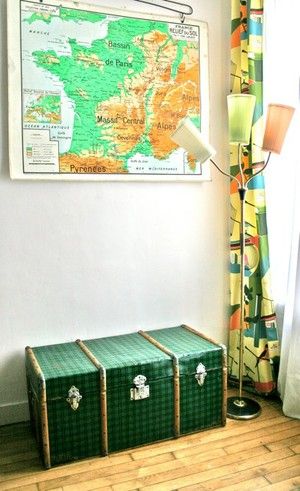 Who said the map needs to be on its own? As you see,It fit perfectly with other frames, photos and pictures.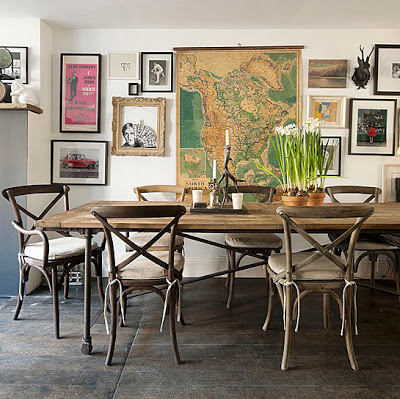 Don't hesitate to visit my Pinterest Board to discover some other great Vintage School Maps!