You will create a great kitchenalia style in your kitchen by using those old moulds.
Sparkling copper, rustic in terra-cota or modest in cast iron, the baking tins are just asking to be used again! They can also decorate so well your kitchen' walls or even your shelves.
They became more democratic during the 20th century. The sophisticated pastries baked until now especially for the wealthy elite, invites itself to the middle-class table, thanks to the discovery of the beet sugar.
The sweet dishes, served on a service trolley at the beginning of each meal had to be as nice as good.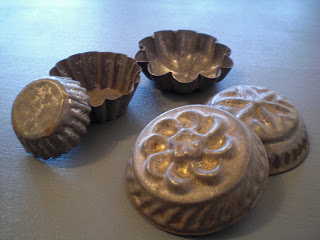 The brassworkers had to excel themselves to realize some perfect baking tins adapted to the various specialities of cooking.
Many of them present some spectacular decorations:  straight or trunks grooves, swags, and floors for tiered cakes… Those luxurious tinned copper moulds request a lot of maintenance and remain the privilege of the bourgeois' houses and restaurants. They are still nowadays very popular. The most modest households are looking for the white iron ones, more practical for use and cheaper, but sensible to rust, also light and easy to manufacture. The cast iron baking tins are simpler than their copper' equivalent: tart mould, panettone mould, charlotte mould, brioche mould, cannele mould… and many other cook tops for small pastries like: the "Madeleine", the "financier", the "langue de chat"… Nevertheless, this material, still used nowadays, is going to be less and less used during the 50's, replaced by the aluminium material which was easier to work with and totally insensible to oxidation.
Continue reading "Inspiring Ideas of Vintage Decoration with your grandma's moulds" »