History of the French Club Chair:
The first French Club Chairs appeared at the beginning of the 20th century. They were characterized by their straight lines, from the Art Deco Style opposed to the Art Nouveau Style with its clean and flexible lines.  After the Second World War, dozens of shapes appeared.
Some have stood the test of time, such as the "Moustache", with a lip like curves across the back and the "Gendarme's Hat", with an elegant arch like curve, both appeared in the 40's. My favourite one is the Round Shape, which was the most famous and had become the Club Chair's most emblematic incarnation.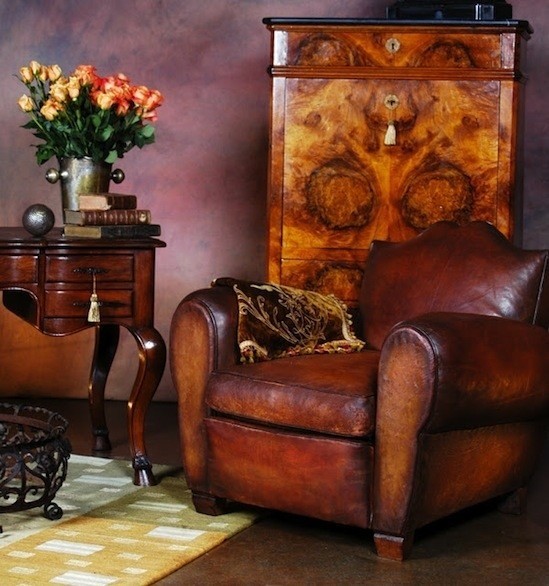 Stunning Vintage French Club Chair "Moustache"
Contrary to popular belief, this leather Club Chair is French origin.  At first, the Club Chair was called "The Comfortable Chair" to distinguish it from the "Fauteuil de style" which had straighter lines and was less enveloping. While the name "Club Chair" refers to the Gentlemen's Clubs in the 19th Century in England where gentlemen could escape from their home (and wives) and enjoy cigars, brandy, and conversation about business, politics and sports. The names of the fashionable London streets full of such Clubs are still used to name classics English Club Chairs such as St. James or Piccadilly.
Years later, The Club Sofa appeared, offering more seating space, but also an opportunity to have a comfortable bed. You can find the same shapes as the Club Chairs, like the "Moustache".
This vintage chair has become the most coveted chair in the world and had inspired many designers, from Le Corbusier, Pierre Jeanneret, Charlotte Perriand to Philippe Starck in the 80's 90's with the creation of the Bubble Club. It was made of polyethylene moulding, taking the Club Chair from the bourgeois home to the terraces and gardens. So over time, nothing changes fundamentally, everything deforms and is transformed, and the club doesn't stop instilling new ideas, by these contemporary forms since its origin. Its longevity, modernism and refinement are still very much admired today.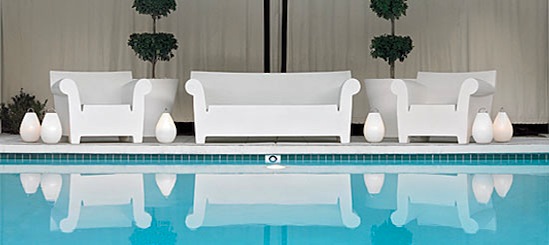 Stunning Bubble Club by Philippe Starck 
How the French Club Chair is made?
Only noble materials are used in the design of the Club Chair. The leather used is the sheepskin called the "Basane" in French, a very high quality of lambskin leather.
Design, carpentry, fellmongery, upholstery and coloring are the main crafts involved in the manufacture of a Club Chair. Each chair is a product of all this combined expertise. The appearance of the Club Chair was possible thanks to the application of a new padding technique, using double conical springs not only in the seat cushion but also in the backrest and the armrests. Coir filling supplemented the suppleness of these springs.
The covering is made of vegetable-tanned sheep's leather. Some marks and defects in the skin are visible through the dye, making each chair unique. Furthermore, the incredibly fine grain gives the armchair a unique patina over time. French leather was renowned for its quality from the 19th Century.
Between six and eight skins of approximately 0.8 square meters (8.6 sq ft) each are required to cover an armchair. They are applied wet, stretched as tightly as possible, and contract as they dry. They will last around 40 years and after that time, you will have a fantastic patina for more decades to come!

Fantastics French Club Chairs "Chapeau de Gendarme" 
Nowadays:
The techniques have changed, covering have evolved as Industrial Techniques have developed, and have included mercerised cotton, velvet, calfskin and, most recently bycast leather. However, sheep's leather is still considered the authentic material for the chairs. The industries progress led to the replacement of the padding method with no-sag springs or elastic webbing, together with synthetic foam.
Why choosing a Vintage Club Chair?
There are so many reasons!
It gives so much character, a great sense of charm, luxury and elegance to any interior.
It is timeless, a classic that would be appreciated for all generations.
It is very sturdy.
It gives an instant sense of history to any room it inhabits.
It is trendy, always was, is and always be.
It has the ability to fit in with so many different styles from rustic to contemporary, industrial, retro, vintage, shabby chic and so on.
It has an incredible soft leather.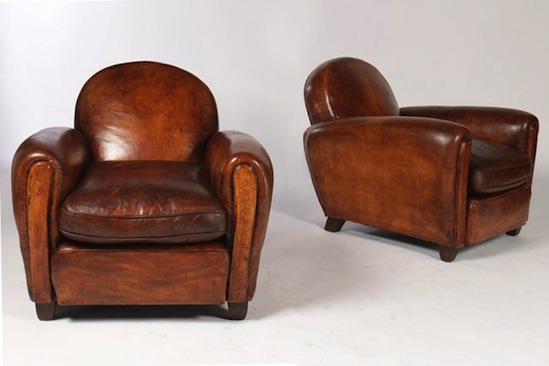 My favorite! The French Club Chair "Round Shape"
How to take care of your vintage French club chair?
It is important to know that heat and sun are factors that may lead your Club Chair to dry. So you need to nourish the leather from time to time with some linseed oil with white vinegar to bring back its suppleness and its shine. If you need to make some refurbishment, always ask for a professional. The work has to be done by hand, the way they were originally built with artistry and passion.
You can consider to acquire a Club Chair, you will acquire not only a gem, you will get a unique piece of art and history that will become one day an Antique, in fact a real investment!
Where can you find some?
To antique dealers, vintage shops and of course at La boutique Vintage!
We will always offer you a wide range of Authentic Club Chairs with striking lines, perfect proportions, and a stunning patina on original full panels of leather.
And you what is your favorite one?